RECEIVERS DESIGNED FOR OPERATOR SAFETY
Hetronic receivers are designed for maximum operator safety, and built to withstand the most rugged field environments. We offer a wide variety of receivers that are both versatile and fully programmable. Whether your application requires AC- or DC-powered relay, solid state, or serial interface outputs, Hetronic offers a perfectly matched receiver solution for your machine operation (stationary or mobile).
HETRONIC RECEIVER SOLUTIONS
Hetronic receiver categories are available for virtually any application and are designed to be matched to the appropriate transmitter and application.  Our MFSHL receiver series provides customers Multi-Frequency Scanning (MFS) and H-Link (HL) wireless programming to expand possibilities and improve efficiency in the field.. The RX HL series receivers are designed for complex process control applications offering internal diagnostics as well as multiple inputs and outputs to meet a wide range of applications. The RX Series receivers are compact, rugged and lightweight and can be equipped with a variety of relay outputs and internal antennas.
When bus technology is a vital requirement,  Hetronic has the right receiver that will operate with your selected bus interface. When EX (Explosion Proof) is critical to safe operation our EX receivers can be counted on to be intrinsically safe and customized to meet customers' specific operational requirements.
MLC-HL
MLC-HL receivers offer digital or proportional (Voltage Control or PWM) or a combination of both, RS232 and CAN. With 8 analog or digital inputs the MLC-HL is fully programmable. Operational frequencies for the MLC-HL include 4xxMhz, 8xxMHz, 1.2Ghz or 2.4Ghz.
Contact us to discuss the Receiver and transmitter solution to meet your specific application
DIMENSIONS: SEE TECHNICAL SPECIFICATION SHEET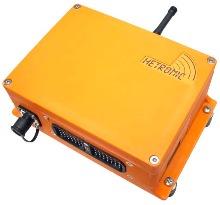 Multiple frequencies
Digital or Proportional
PROFIBUS
PROFIBUS (Process Field Bus) is a smart, field-bus technology that connects devices on the system to a central line.  Devices can communicate information in an efficient manner, but can go beyond automation messages. PROFIBUS devices can also participate in self-diagnosis and connection diagnosis.
DIMENSIONS: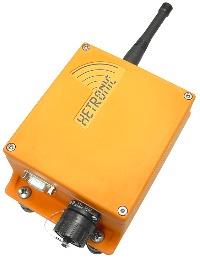 Communicates efficiently
Connects multiple devices on a system
Full analog/digital I/O's
DEVICENET
DeviceNet is a simple open network system to interconnect devices for data exchange. It utilizes the Common Industrial Protocol over a Controller Area Network. Applications include:
DIMENSIONS:
Simple, Open Standard
Low Cost implementation
CAN
A Controller Area Network (CAN Bus) is a vehicle bus standard designed to allow microcontrollers and devices to communicate with each other in applications without a host computer.
DIMENSIONS: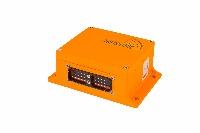 Works without line of sight
DC MOBILE
DC Mobile Receiver is a lightweight and portable receiver that provides customers up to six (6) digital outputs via main contact (8A) and three (3) digital outputs with external powe supply (5A).    With four (4) analog/digital inputs and one (1) digital input the DC Mobile is capable of operating at a wide range of frequencies including 4xxMhz, 8xxMhz, 1.2Ghz and 2.4Ghz.
DIMENSIONS: H 131MM (5.16″) X W 166MM (6.54″) X D88MM (4.46″)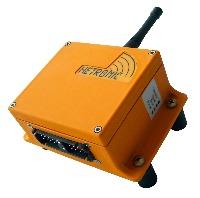 IP65
Range 100m (300′)
Vibration mounts
​Weight: 710g (1.61lbs.)