ERGO SERIES HANDHELD TRANSMITTERS
The ERGO series transmitters are ergonomically designed, fully programmable handheld transmitters that provide the operator complete control over their industrial machinery. For safe and reliable operation, from simple to complex, the ERGO, ERGO F and ERGO F-21 transmitters are designed to complete any task. Designed for medium to heavy duty applications the ERGO series radio remotes can be configured to customer specific requirements. Every ERGO transmitter can be operated with one hand and are available in a wide range of frequencies from 434Mhz to 915Mhz and at 2.4Ghz. For EX (Explosion Proof) applications an ERGO can be configured to meet hazardous environments.
ERGO F
The ERGO F transmitter has been the professional equipment operators tool of choice for robust, reliable wireless remote controls.  Each can be configured to operate at 4xxMhz range or 2.4Ghz.  Fully configurable the ERGO F is built with highly reliable membrane switches available in single, dual and triple speed. The push buttons are easy to read, can be operated with or without gloved hands and each can achieve millions of actuation's without failure.
An easy to read 16 character LCD display provides battery condition and machine performance feedback at the touch of a button. The sturdily built ERGO F can be used in a wide range of indoor or outdoor applications such as EOT cranes, goliath cranes or jib cranes. Incorporated with Hetronic's Class 3 safety system and IP65 housing ERGO transmitters are an extremely cost effective and flexible solution for your man-machine interface applications.
The ERGO F is available in a number of pre-configured as well as customized versions that will meet an array of process control applications. Contact us who can assist you in designing the ideal transmitter for your specific application.
DIMENSIONS: H 186MM X W 82MM X D 33MM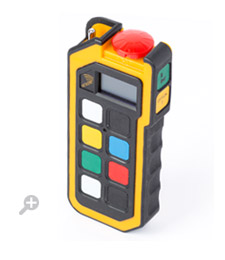 IP 65 Case
Range: >100m
Integrated LCD Display
Easy to read and use buttons
Fully Programmable, up to 3 speed operation
Class 3 safety system
Frequencies:  4xxMhz, 2.4Ghz
ERGO
The ERGO transmitter series offers five (5) pre-configured versions of a one-hand operated, ruggedly designed process control solution. The ERGO comes with from six to 11 functional push buttons that can be configured to single or dual speed operation. Each unit will operate continuously for 20 hours with either 3 AA batteries of a 3.6V NiMH rechargeable battery pack.
The ERGO transmitter has an ergonomic design with easy to operate multi-function push buttons. The ERGO has been designed for control of Overhead Cranes, Tower Cranes, coil handling equipment and a number of similar applications. Contact us to learn more about the ERGO transmitter.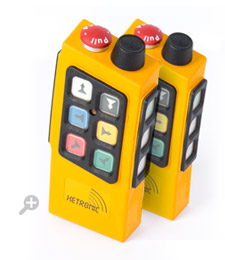 Weight:   510g (1.1lbs)
Single and Dual speed push buttons
Optional rechargeable NiMH battery pack
Five (5) pre-configured versions
Diagnostics: LCD or LED notifications
Frequencies: 419Mhz to 459Mhz,
ERGO F-21
The Hetronic ERGO F21 transmitter is a heavy duty professional radio remote control designed and built with additional capability for applications where additional functionality is required. The F21 features an ergonomically designed IP65 case with a large E-Stop button for immediate shut-down of machinery prominently set at the top of the hand-set. With two control buttons next to a 16 character LCD display the F21 operator can access valuable machine data with confidence and ease. The front of the F21 housing is configured with 21 large, easy to access membrane switch buttons that provide operators with the ability to control a wide range of equipment functions.
The ERGO F21 is available in versions that include 2.4Ghz operation and in Multi-Frequency Scanning H-Link (MFSHL) capability and a certified EX version (Explosion Proof) model.
DIMENSIONS: H 186MM (7.3″) X W 82MM (3.2″) X D 41MM (1.6″)
Weight: 400g (14.2oz.)
20 hrs. Continuous operation
21 high reliability membrane switch buttons
Range: 70m (210′)
Integrated 16 character LCD
Up to 16 Diagnostic LED's
EX  and MFSHL options
ERGO120
The NEW ERGO120 button transmitter represents the next generation of Human-Machine-Interface professional radio remote controls. The robust and durable IP 65 transmitter is designed with an advanced 2.4″ color TFT backlit display, twelve configurable 1 or 2 step buttons and a large, easy to reach bottom mounted emergency STOP. The ERGO120 fast response time is less than 100ms and offers accurate, world-class performance. Field tested to ensure its durability, the ERGO 120 meets or exceeds IEC and EN requirements for shock, vibration and functional safety.
The ERGO120 is the ideal transmitter solution for a wide range of process control applications including overhead cranes, hoists, winches, grinders, shredders, mobile hydraulic and a wide range of construction equipment.
Capable of operating on frequencies including 4xxMHz, 8xxMHz or 2.4GHz the ERGO120 is also customer programmable with our H-LINK PC system.
DIMENSIONS: H 186MM (7.3″) X W 82MM (3.2″) X D 41MM (1.6″)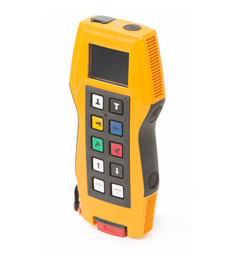 Weight: 400g (0.88 lbs.)
10+ hrs. Continuous operation
2.4″ Color Backlit TFT Display
Range:100m (328′)
Up to 8 Diagnostic LED's
Compliant: IEC60068-2 11,29,64
Compliant: EN60204-1