CUSTOM RADIO REMOTE CONTROL SOLUTIONS
Since its inception in 1982 Hetronic has been a leader in customized and application specific radio remote control solutions.   We continue to expand our ability to meet customers' ever-changing needs by providing product customization as well as turn-key sub-system and system integration. We have custom radio remote control solutions for virtually any need.
Hetronic will create systems that integrate hydraulic, pneumatic and electric components as well as sensors, video and radio remote control into complete systems.   Recent examples of our integration capability include development of a radio remote controlled cement head for oil and gas rigs (onshore and off shore) and the Remote Locomotive Control (RLC) all-in-one (hydraulic, pneumatic and electric) box controller that is capable of performing virtually all locomotive operations from the ground via remote control.
For more information on Hetronic integration capabilities please contact us to discuss your specific application needs.
NEW MEC-HL MOD KIT FOR HYDRAULIC CRANES
Hetronic's MEC-HL C MOD kit is an  electromechanical radio control modification kit for after-market hydraulic crane applications.  The MEC-HL C Radio Remote Control kit includes proportional actuators, Remote Control Radio Receiver and Transmitter at a low per unit cost with a fast ROI while increasing efficiency and safety for a wide range of applications.
The MEC-HL C modification kit is offered with either a 12V or 24V power supply, is IP65 rated and includes everything needed to remotely operate your hydraulic crane in complete safety.     Included in the easy to install kit are next generation Servo motors that control each hydraulic function, a matched transmitter and receiver and the appropriate installation hardware.
The MEC-HL C MOD Kit guarantees accurate control of the crane using advanced technology proportional actuators.  Each kit contains a field tested NOVA Radio Remote Transmitter that can be configured to your needs and a matched Receiver with compatible drivers.  The control system of the radio control digitally drives the long-life servo motors and provides a proportional signal for every direction of each maneuver made.  A "Zero Contact" security process provides for a system that is highly secure in the event of a fault or emergency.   Adaptable to any job, easy to install and modular, the MEC HL C MOD Kit will provide non-remote controlled hydraulic equipment crane operators a fast Return-on-Investment at a low per unit cost.
Contact us to discuss how we can help you upgrade your hydraulic application to a cost effective remote control
DIMENSIONS:44MM X 182MM X 82MM, 1.58KG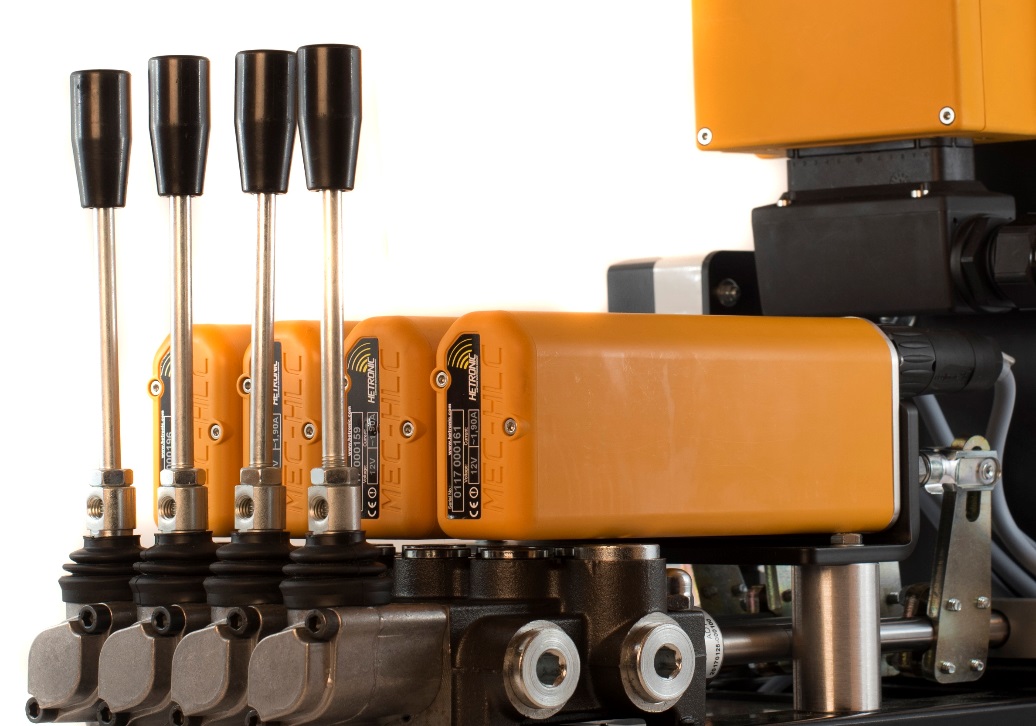 Low Cost Complete kit to remote control hydraulic cranes
Electromechanical Proportional Actuators
Improve Efficiency & Enhance Operator Safety
Easy Installtion, No Maintenance
High Reliability, Rugged, Long Life