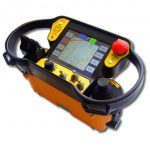 WHY HETRONIC
Hetronic's experience and expertise understanding that each customer application is special allows us to develop configured control systems that are intrinsically safe, high performance and ruggedly reliable. As technology rapidly changes industrial equipment, requiring multiple functionality as well as more complex and precise operations, Hetronic is committed to meet industry demands through innovation. Hetronic is developing and implementing new technologies to improve RF system operation and customer productivity. Recent introduction of patented User Interface (UI) touch technology, new proportional control options, video technology for improved safety and real-time operation feedback  provide customers with safer, more reliable and intuitive systems that improve operator productivity. Technological improvements in redundant safety systems, proportionality control and frequency management and integration of sensor technology provide customers control systems that are safer, faster to respond, more accurate and allow for greater productivity.
Working directly with our customers we gain a thorough understanding of your application and requirements allowing us to design a flexible and customized Radio Remote Control machine control solution that is the ideal system for your application.
Hetronic is always available to discuss your application and help configure a world class, cost effective wireless radio remote system for your specific industry application. Contact an Hetronic technical expert to discuss your ideal solution.